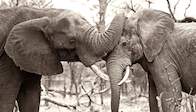 © Richard Miller
Established in 1966 Kruger Park Safaris (Pty) Ltd is a company built on the backdrop of years of experience.
We are a tour operator who prides itself on providing our clients with a personalised service through the expertise of our destination specialists. Our main purpose is to ensure clients travel to South Africa with confidence.
With many years of combined knowledge and a shared history with Kruger National Park since the late 1960's, Kruger Park Safaris is the oldest registered safari company in South Africa. Much may have changed in the intervening years, but the attributes of quality and service excellence have not.
Kruger Park Safaris is able to provide tour operators and travel agents a variety of diverse safari holiday experiences to their customers in the Kruger Park.
The time invested in understanding the park is evident as we are able to match the client to the desired experience. Kruger Park Safaris understands that the big five is not the ultimate goal for all travellers and thus our offerings are unique - our tours are built around the safari clients are looking for.
Why Kruger Park Safaris?
Kruger Park Safaris, has put together a simplistic product reflecting various pricing options, all services are included e.g. conservation and entrance fees, accommodation, transfers, meals (where applicable) and game drives with professional driver/guides. Our tours offer accommodation of the same standard irrespective of the region of Kruger National Park you are in.
Affordability
Kruger Park Safaris tours are designed to suit all budget types, with our in depth knowledge and long forged relationships in the area, we have sourced the best available options to suit all pockets.
Availability
At Kruger Park Safaris, we understand that obtaining accommodation for your safari can sometimes be difficult, especially during peak holiday periods. Securing a guarantee on your bookings can be very problematic on last minute notice, especially during the festive season. We therefore recommend that you book your safari in advance with us at your soonest convenience.
Nevertheless we endeavor to get you a safari no matter what, and by using our strong relationships with most accommodation providers in the Kruger Park, you have the best chance of not being disappointed, however changes in accommodation types, locations and prices may occur.
Accessibility
All Kruger Park Safaris include easy transfers that will be waiting at either Kruger Mpumalanga International Airport (MQP), Hoedspruit/Eastgate Airport (HDS) or Phalaborwa Airport (PHW) and drive you directly to where you will be staying.
Flexibility
Kruger Park Safaris can offer your clients departures 365 days a year, we accommodate for children of all ages in our Flexi Family option. Our consultants with their extensive knowledge can assist you in providing your clients with tailor-made tours, exclusive group accommodation or accommodation for larger groups when booked well in advance.
Diversity
Tours are offered in different regions of the Kruger National Park showcasing different scenery and habitats allowing you to offer your client various options and different price ranges of accommodation, from classic tented camps to the more luxurious lodges.