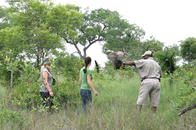 In the wildlife-stuffed Kruger you will venture on epic adventures to track fauna great and small, and feast your eyes on diverse landscapes.
As your game ranger pulls up in front of big game, grab your camera, ready to capture epic moments. Whether you are a wide-eyed first time traveller, or an experienced one, game drives in Kruger are always exciting. Head out into the bush on a guided walking safari and fully immerse yourself in the unrivalled beauty of Kruger Park. Escape to the tranquil spa for a rejuvenating pampering session, at your own expense. Track bloodthirsty predators in the late afternoon and return back to camp for a fine dining experience.
Kruger Park is a bird enthusiast's dream, and if you listen close enough, you may distinguish between the different species found in the wilderness. While relaxing around the rock pool on a casual afternoon, spot bushveld birds such as Hornbills, Violet Ear Starlings, Boubous, Shrikes and Woodpeckers. Kids on safari embark on their own adventures as little explorers, on exciting outdoor activities or enjoy arts and craft activities. A complimentary safari transfer will take you to Leopard Creek Golf Club, where you can combine your safari with a game of golf.