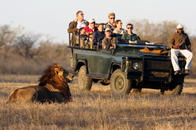 Game drives on a Kruger Park safari provides you with the unique experience of getting up-close and personal with the wild whilst in the safety of a 4x4 safari vehicle.
With the right equipment and your very knowledgeable safari guide at hand you are able to make the most of any game drive. Once in the vehicle your guide will explain the do's and don'ts of the drive and in no time at all will you find yourself
surrounded by the beauty of nature
untouched.
The formal definition of what to expect when going on safari is a trip into the wild to see animals in their own environment. However; what you really experience when a lion is only a meter away, or the top half of a Giraffe's legs are at eye level when you drive past, is indescribable.
It's more than just an experience; it's a thrill of excitement.
While on the game drive it is very important to adhere to the etiquette of the vehicle as this will ensure the safety of yourself and fellow passengers. Try to keep in mind that the threat of humans is still apparent therefore, your behaviour could cause the wildlife to either run off or become aggressive.
Pay attention to the local knowledge of your guide and tracker pointing you in the right direction of good sightings, while providing you with an in-depth knowledge of fauna, flora and the area itself, leaving you with an indescribable feeling of the bush.