From 14,862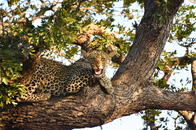 Allow yourself the pleasure of experiencing nature in it's purest form when you journey off into the wilderness to witness the beauty of the bush in perfect isolation.
Safari Highlights
Embark on daily game drives
Listen to stories around the fire
Take in the sights, sounds and smells of the bush
Experience a rustic and remote safari
Enjoy authentic African dishes
Break away from the routine of everyday life and venture into this remote part of Kruger National Park where you can look forward to experiencing nature at its finest. Waking up from a peaceful sleep you will start your day with the sights and sounds of the wild.
On your game drive along with an experienced Guide and Tracker, you will be amazed by the abundance of wildlife which nature has to offer as you drive along looking out for these magnificent four legged creatures. Kruger National Park allows you to experience something that is not easily forgotten - the chance to see wildlife in their natural environment, going about their day hunting, sleeping and grazing.
The best feeling you will get from this safari is the isolation yet being surrounded by teeming wildlife and all that matters at these moments are the experiences you will take back home with you.
Includes
Return transfers to and from the nearest Airport
Accommodation inside Kruger National Park
Daily guided game drives and game viewing activities
Meals