From 16,652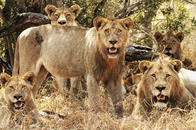 Experience South Africa's wealth of wildlife on a wildlife safari in Kruger National Park, as you are captivated by the sights and sounds of the African bush.
Safari Highlights
Ideally situated in the Kruger National Park
Enjoy daily game drives
Be charmed by the views of the Mpanamana Dam
Indulge in traditional African cuisine
Cuddle up to cosy campfires
A normal day in the bush starts off like every other day, with a cup of coffee, after which you have an incredible experience searching for Lion, Buffalo, Leopard, Elephant and Cheetah to name a few. This safari exposure is amazing and adrenalin pumping when a herd of Elephants are crossing the river right beside you or when Impala males size each other up.
A safari is not something that is easily described as it should be heard, seen and smelt using your sense to experience what the Kruger Park offers you. Watching the incredible wildlife from your room during the day and at night time drinking water at the dam is a highlight.
When you are not driving through the Park you will have time to relax in communal areas, read a book in the comfort of your room or splash about in the swimming pool. In the evening you gather around the fire to enjoy a traditional African meal while reminiscing about the day's happenings.
Includes
Return transfers to and from the nearest Airport
Accommodation inside Kruger National Park
Daily guided game drives and game viewing activities
Meals