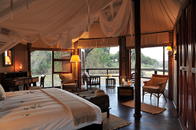 Enjoy a few nights of luxury in the world-renowned Kruger National Park, in one of the most exquisite South African safari locations.
Your Kruger Park accommodation is an exceptionally luxurious elevated tent. From the privacy of your viewing deck at your Kruger Park hideout, listen to the sounds of the Nwaswitsontso River while the attentive staff look after your every wish. Admire your romantic accommodation setting and the incredible spectacle of nature that surrounds you.
Isolate yourself from the modern distractions of the city life. Your accommodation has no cellphone reception, ideal if you want to distance yourself from the world. Take a refreshing dip in the swimming pool to cool off from the hot African sun.