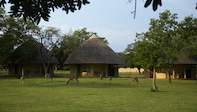 Pretoriuskop Camp is the oldest Rest Camp in the Kruger National Park and offers a variety of comfortable accommodation to suit your needs. This area also holds a large population of White Rhino.
Pretoriuskop Camp Lodging Options
45 camp sites with power points
30 huts with no fridge
46 huts with fridge and air conditioning
52 bungalows with air conditioning
5 family cottages with 3 bedrooms
2 guest houses - Pierre Joubert and Doherty Bryant
Pretorious Camp is situated in the south of the world renowned Kruger National Park and is named after the nearby kopje (hill) where Voortrekker Willem Pretorious was buried. Willem Pretorious was a member of Carl Trichardt's expedition to Delagoa Bay in 1848.
Pretoriuskop Camp is one of the oldest camps in the Park and offers a wide range of comfortable accommodation, from fully equipped guest houses and family cottages, to basic bungalows, huts and campsites.
Your Kruger Park accommodation is grouped into 3 circles which surround a compact administrative block. This administrative block houses the reception area shop, restaurant and cafeteria.