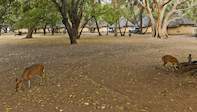 Letaba Camp is a uniquely beautiful Kruger Park restcamp, offering various types of accommodation and a lush bush. This camp is well known for Elephant and bird sightings. Day and night game drives are excellent in this region.
Letaba Camp Lodging Options
20 Permanent canvas tents
10 Guest cottages
5 Huts with veranda
60 Camp site with power point
86 Bungalows with air conditioning
2 Guest houses - Fish Eagle and Melville
Letaba is located in the north of Kruger Park with views of the Letaba River. If you visit in winter you will find the gardens in full bloom with many colours, from several species of Aloe to the Impala lily. These plants attract various species of bird for the bird lover to see and photograph.
Letaba River is ideal for game viewing, particularly Elephant, which abound in the area. While Letaba is known for Elephant and bird sightings, guests have seen Lion and Cheetah making kills on the riverbed which the lodge overlooks.
Please Note If you must walk around at night, please do not do so without a torch. All Emergency Road Services are from Satara.