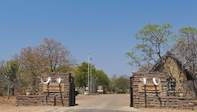 Olifants Camp offers comfortable accommodation in bungalows and luxury guest houses and boasts the most amazing view of the Olifants Water and its residents.
Olifants Camp Lodging Options
107 bungalows with air conditioning
2 guest houses - Lebombo and Nshawu
Some units have kitchens while others have communal kitchens
The guest houses can both accommodate 8 guests
The Olifants Camp is situated on top of a hill, providing amazing views over the Olifants River. The name Olifants is derived from the Afrikaans word for Elephant, an animal regularly spotted in this area. This Kruger Park lodging is warm and welcoming, where comfortable accommodation and great wildlife opportunities are the order of the day.
Enjoy breathtaking sightseeing opportunities from the lookout platforms, where you may be able to spot Lion, Hippo and Crocodile cooling down at the river below. Olifants Camp is situated in a transitional zone with 2 types of vegetation. This results in a wide range of game inhabiting the area, namely Zebra, Kudu, Impala, Elephant in the north, and Buffalo, Giraffe and Kudu in the south.