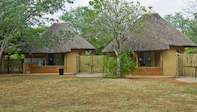 Satara Camp, known as the 'cat camp' due to the frequent sightings of Lion, Cheetah and Leopard in the area, has various accommodation types on offer.
Satara Camp Lodging Options
100 Camp sites with power point
152 Bungalows various facilities
1 Guest Cottage well equipped
3 Guest Cottages with large luxury units
Satara Camp can accommodate up to 400 visitors and is the third biggest rest camp in Kruger National Park.
Satara Camp is often referred to as the 'cat camp' because it is one of the best spots for viewing Lion, Leopard and Cheetah. The big cats prey on the vast herds of antelope that are attracted by the fertile grazing land in the area.
Satara Camp's facilities include a large shop, cafeteria, restaurant, fuel station and laundrette. There is also an open air theatre where wildlife documentaries are shown and a jungle gym for the kids.
Some of the bungalows at this Kruger Park camp are fully equipped for self-catering guests, while others offer more basic accommodation with communal kitchens. The bungalows along the eastern perimeter allow visitors to glimpse the Hyenas that scavenge outside the fence at night.