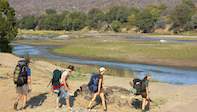 Set amongst beautiful Aloe and Barberton Daisy gardens, this small camp is situated at the Orpen Gate entrance to the Kruger National Park, an area known for its great diversity of flora and fauna.
Orpen Camp Lodging Options
6 Bungalows with shower, kitchenette and verandah
3 Family cottages with 2 bedrooms and 2 bathrooms
Orpen Main Rest Camp is a Kruger Park Camp situated in the central region of the famous Kruger National Park, on the western border. This small main camp serves as an entrance gate to the central region of the Park. Because of the scattered trees and wide open plains covered by sweet grass, many browsers are drawn to this area, which in turn attracts Cheetah, Lion and Leopard.
Orpen is well known for its rich diversity of wildlife, habitat and flora and offers guests an excellent opportunity to enjoy close encounters with Elephant, Rhino, Buffalo, Lion, Leopard, Wild Dog, Cheetah and Giraffe.
Outside the Orpen Camp fence is where you will find a small waterhole where game can be seen quenching their thirst. Impala and Baboon are regular visitors to this area, but Elephant can also be sighted in the evenings.