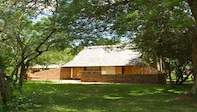 Berg-en-Dal camp is a five star camp located in the south of Kruger Park, with much to see in wildlife and entertainment for children.
Berg-en-Dal Camp Lodging Options
72 Camping Sites for caravans and tents
69 Bungalows each with a kitchenette, w/c and shower
23 Family Cottages each with fully a equipped kitchen
2 Guest Houses - J Le Roux and Rhino Guest House
Berg-en-Dal Restcamp offers excellent lodging facilities. Various activities such as bush walks, day and night game drives, swimming in the crisp swimming pool and the Bushman Trail are available for guest entertainment.
Amenities at the camp include a well-stocked grocery shop, a laundromat, petrol (gas) station, picnic facilities, conference venue for up to 300 delegates, a swimming pool and activities for children.
Please Note
If you must walk around at night please do not do so without a torch.