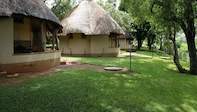 Crocodile Bridge Restcamp is a quaint delightful camp located in the south of Kruger National Park offering spectacular bird watching opportunities.
Crocodile Bridge Restcamp Lodging Options
20 bungalows - 2 are wheelchair accessible
18 camping sites for caravan and tents
8 permanent canvas tents
Your Kruger Park accommodation at Crocodile Bridge Restcamp is the perfect starting point to pursue the Big Five. The small camp is situated on the northern bank of the Crocodile River in the south east of the world-renowned Kruger National Park. Just a stone's throw away from Mozambique's capital Maputo, the camp in Kruger Park is rich in local history.
Amenities at Crocodile Camp include a laundromat, grocery shop, liquor store and petrol station. Self-catering facilities are available for the independent traveller who can choose between camping sites, safari tents and bungalows overlooking kilometres of farmland.
Please Note If you must walk around at night do not do so without a torch. All Emergency Road Services are from Skukuza.