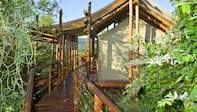 Punda Maria is a bird watchers paradise and also the best region in Kruger Park to view the shy Nyala Antelope.
Punda Maria Camp Lodging Options
60 camping sites for caravans and tents
22 bungalows without verandah
2 family cottages with one of 3 bathrooms for disabled
7 tents with 2 beds, shower and toilet en suite
A bird watchers haven, Punda Maria Camp is steeped in history and recognized as the best region inside the Kruger National Park to spot the shy Nyala Antelope.
After a recent upgrade, this Kruger Park Rest Camp now features 7 luxury tents, and a swimming pool. Punda Maria Gate has received a new building, a reception area and ablution facilities, for a relaxing and trouble free stay in Kruger National Park.
You do not come to Punda Maria Camp for the game, since the vegetation supports fewer game species, but for the camp's rich heritage and history. However, Elephant and Buffalo can be found roaming the plains, and Rare Tsebbebe and Sable have also been sighted.
Situated in the northernmost park of the Park, this Kruger Park rest camp lies just 8 kilometres (5 miles) from the Punda Maria Gate in the Sandveld region.