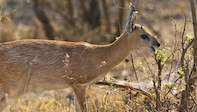 Activities
Your safari in Punda Maria affords the opportunity to view the shy Nyala and Impala, and maybe even some Bushbuck.
Wildlife
The Velvet Monkey and Baboon is also abundant is this area, and Hippo and Nile Crocodile can be found relaxing in the riverbed.
Wild Dog, Elephant and Lion
have also been recorded, as well as Kudu, Buffalo and Grysbok. The Mahonie Loop is the best location to view the tiny Suni Antelope.
Birdlife
Punda Maria is known as a birding paradise, with an abundance of bird species making this area its home. Bird often recorded includes yellowbellied and terrestrial bulbul, bearded robin, as well as the majestic birds of prey. For the most rewarding birding encounter, the Mahonie Loop is one of the best drives to enjoy.
Guided Walks
Experienced guides will take you on a journey through the camps explaining the Natural wonders of the surroundings and fascinating facts. Children under 13 are not allowed.
Game Drives
Guest can enjoy and experience the African bush with a Sunset Drive, Night Drive or Morning Drive. Children under the age of 6 are not allowed to participate in this activities.